31
October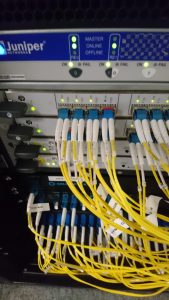 Over the last few months we have been working away at improving capacity and redundancy in a number of areas of our network to ensure we continue to provide the lowest latency highest possible bandwidth services to our customers.
Since June of this year we have deployed an additional five Juniper MX series routers across our core POP sites bringing online over 2.4 TB/s of additional capacity.
We have also increased the number of core sites we operate from within the London Docklands and now have a prescence within Digital Reality Soverign House, Equinix Harbour Exchange Telehouse East, North 2 and West. We are able to offer dedicated servers, IP transit and MPLS cross connect circuits at any of these sites.
Additionally we have bought in an additional 150Gb/s of external IP transit suppliers and ontop of this now have direct private peering agreements with all the main UK ISPs (Virgin, BT, TalkTalk, BSKYB and Vodafone).
The extensive investment we have carried out over the last few months now sees us as having the highest external bandwidth capacity network of any privately owned UK dedicated server provider and will ensure we can continue to offer customers stable services over the years to come.